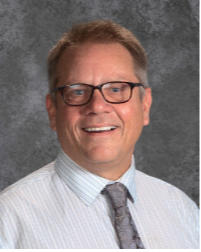 Welcome to Jedlicka Middle School!

John Awsumb
Principal
It is with great honor that I introduce myself to you as principal of Jedlicka Middle School. I know many of you from my years as assistant principal at Bay View Elementary here in Proctor, and I look forward to continuing our partnership in the development of your children. I'm also excited to get to know all our students and families from Pike Lake and beyond. Wherever you are from, you are always welcome to contact me for any reason involving your children.
I'm no stranger to middle school, as I spent five years as an AP at Columbia Academy in Columbia Heights, Minnesota. I will use that experience to understand the myriad of changes and emotions that adolescents are going through in their middle school years. It is our job to expose our students to a variety of experiences that will help guide their path as they become young adults. Our talented teachers and staff are eager to inspire our students to reach their full potential.
Thank you for trusting Jedlicka Middle School for the education of your children. We will provide a safe and respectful environment that is filled with positivity to better guide our students through this changing period in their lives. We look forward to serving you all in any way that is helpful.
Sincerely,
John Awsumb
Principal
Jedlicka Middle School
218-520-3077